5 Tips for Buying a Home in a Gated Community Near Reynolds Lake Oconee
Posted by Brian Quinn on Thursday, April 20th, 2017 at 8:25pm.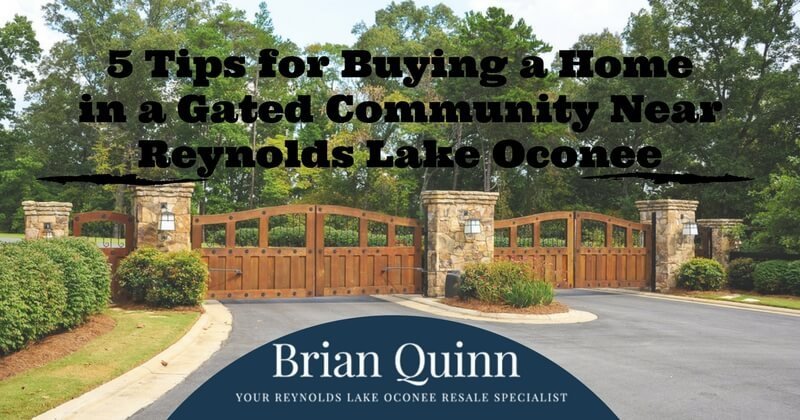 If you're at all familiar with Reynolds Lake Oconee, you're likely aware of the many private communities in the area. These neighborhoods—also referred to as gated or exclusive communities—provide several amazing recreational amenities exclusive to residents, such as swimming pools, fitness centers, tennis courts, and immaculate clubhouses. That's in addition to the pristine lake, championship golf courses, and gorgeous homes that everyone in the Reynolds Plantation area gets to enjoy.
Buying a home in one of these Reynolds Lake Oconee gated communities certainly has its perks. However, those who have never lived in this type of neighborhood might be a bit uneasy about the idea of being separated from other parts of society. There are also several factors to consider when purchasing a home in an exclusive community, which is why it's important to remember these tips for buying a home in a gated community near Reynolds Lake Oconee:
1. Examine the Public Amenities Outside the Neighborhood
Perhaps the most important thing for anyone who has never lived in a gated community to consider is what's outside the gates. It's easy to fall in love with your beautiful new home in your secluded paradise, but no matter how incredible your neighborhood is, eventually you'll want to stray from your daily amenities and explore the area nearby. This is why you should be just as satisfied with the amenities located within a 15-minute drive from your neighborhood as you are with your own amenities.
Are there enough restaurants and shops that you enjoy visiting nearby? Are there other areas to hike or golf in case you want to occasionally take part in those activities in a different environment? Is the area that surrounds your neighborhood gates also safe and peaceful? These are just some of the questions you should ask yourself when exploring the surroundings of your private community.
Fortunately, you don't have to worry about the public amenities near Reynolds Lake Oconee real estate. Anyone seeking a home in a private community in this neck of the woods is just a short drive from many centrally-located restaurants, cafes, essential businesses, and shops in the Lake Oconee Village. There are also several public access points to the lake and an abundance of public hiking trails in this safe environment.
2. Study the Homeowner Association Fees
If you're never lived in a private community, you'll want to review the fees associated with the Homeowners' Association carefully. Make sure you're aware of exactly what you're expected to pay for and whether you have to pay monthly or annually. It's also important to do your research into how much the fees have increased over the years. By learning about these past increases, you should be able to budget for future increases accordingly.
3. Review the Rules
This should be obvious, but you need to be fully aware of all the rules and bylaws in your Homeowners' Association before you commit to buying. This is particularly important for anyone seeking part-time residency in Reynolds Lake Oconee with hopes of renting out their home when they're not using it.
Each community has a specific rental policy that may impact your decision on whether or not to buy. Make sure you're clear on how long the community allows rentals for. Do they allow only short-term rentals or only long-term rentals? You should also find out how many days or months constitute a short-term or long-term rental? You might also want to find out if there are different rental policies for specific areas of the neighborhood you're interested in, as some private communities have different policies depending on what street you live on or what type of home you buy.
Other rules to review include guidelines on security, access for visitors, and what kinds of pets are allowed in both your home and the common areas.
4. Talk to Your Neighbors
If you can possibly find a way to get in touch with some of the current residents of the community you're interested in, ask for their opinions. Most residents of gated communities near Reynolds Lake Oconee have nothing but positive things to say about their neighborhoods, but perhaps the best features of one neighborhood are different than what you were expecting.
If you love playing tennis, ask how much demand there is for the courts to ensure you won't have to wait a long time to play. If you're serious about swimming, ask how often the pool is cleaned. You should also ask about how easy it is to meet other people and whether the neighbors are friendly. Any extra information that you can get could be beneficial if you can't decide between multiple gated communities in the area.
5. Choose Your Reynolds Lake Oconee Gated Community
There are plenty of gated communities to choose from in the Reynolds Lake Oconee area. While they all offer pristine homes with the type of spectacular surroundings you'd come to expect in Reynolds Lake Oconee, certain communities may fit your lifestyle better than others. Here are some of the private communities that you can find information about on this website:
If you're interested in buying a home in one of the many private communities near Reynolds Lake Oconee, contact local resale specialist Brian Quinn today!
Leave a Comment