Del Webb at Lake Oconee
Posted by Brian Quinn on Tuesday, March 21st, 2017 at 3:41pm.
If you're looking for a resort-like utopia that you can call home, look no further than the exclusive paradise known as Del Webb at Lake Oconee. Located at the north end of Reynolds Plantation and only 90 minutes by car from Atlanta, this active 55+ adult community puts you just steps away from Lake Oconee and includes an upscale clubhouse with opportunities to enjoy numerous sports and scenic hikes. You'll also marvel at Del Webb at Lake Oconee real estate, as the variety of luxurious one-story homes provides more than enough privacy and space to entertain guests. I dare you to take a trip through this delightful neighborhood and find a local resident that hasn't fallen in love with everything their new home community has to offer.
Del Webb at Lake Oconee Real Estate
The diverse mix of prestigious, but cozy single-family homes dispersed over 400 acres of land will have you smiling as you make your way down the calm streets of Del Webb at Lake Oconee. These finely crafted homes are all built in the traditional architectural style, with many embodying the look of an upscale ranch home.
A variety of exteriors including, but not limited to, exquisite stone walls and hardboard siding are wonderful to look at, but that's not all you'll notice. Well-manicured yards, attractive gardens, and large driveways leading to attached garages are also great additions to the outer appearance of Del Webb at Lake Oconee homes for sale. The back yards are also quite spacious and come with gorgeous patios, allowing for more than enough room to host fantastic parties with your new friends.
The interiors are designed with just as much thought regarding relaxing and entertaining guests, with the following features:
Generously sized gathering rooms
Big kitchens with islands and granite countertops
Stainless steel appliances
Energy-efficient heating and cooling
Flex rooms for dens or office space
Opportunities to customize many of the design elements
Active Living at Del Webb Lake Oconee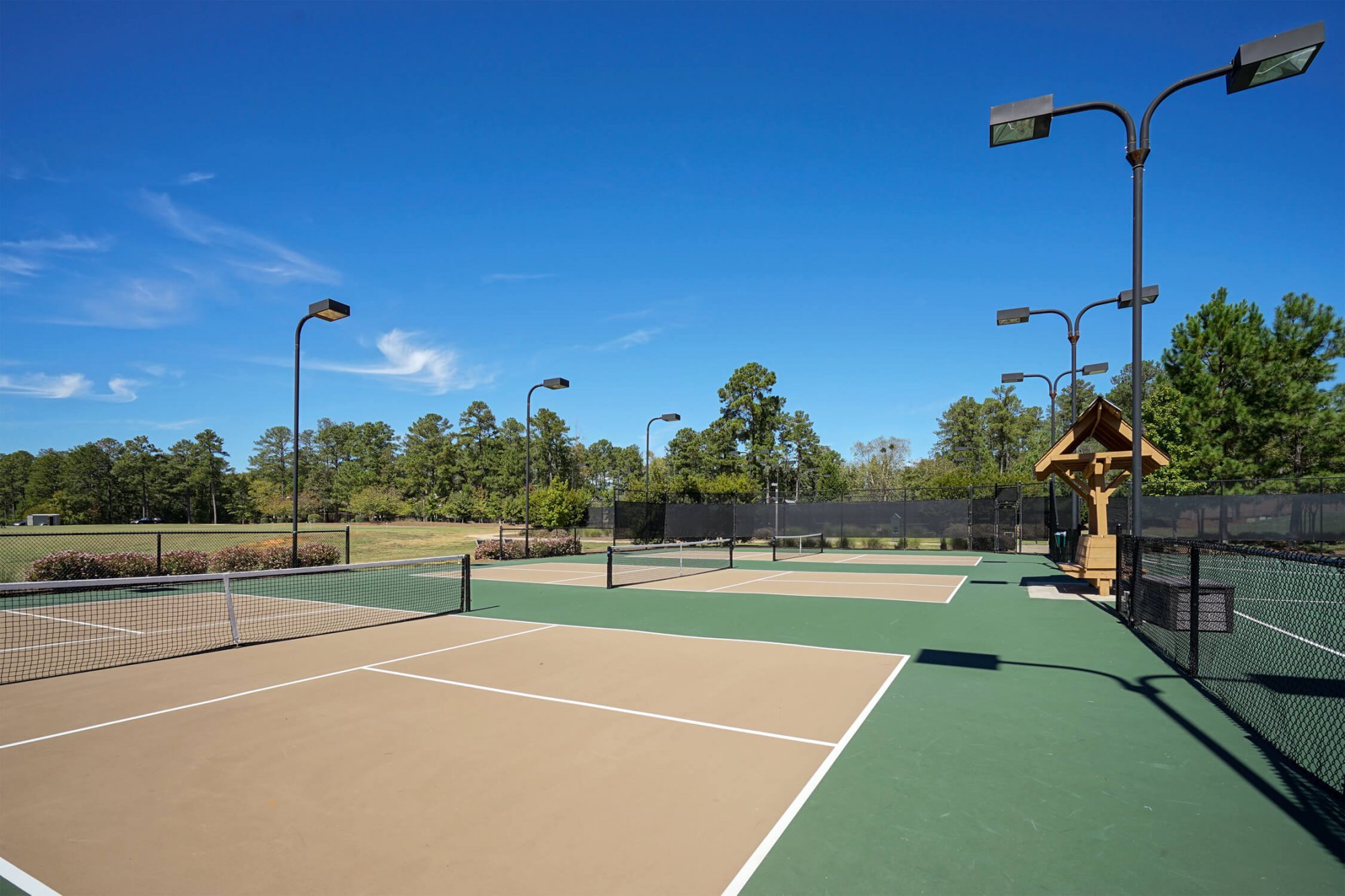 One of the things Del Webb 55+ communities are known most for are the top-of-the-line recreational facilities provided to residents. From the freshly painted hard courts to the high-quality pools, there's an abundance of activities to take part in:
Courts for tennis, pickleball, bocce, and croquet
Outdoor pool with deck & heated indoor pool for laps
State-of-the-art gym and space for fitness classes
Billiards room
Dog Park for your active pooch
Playground for the grandchildren
Even when you're not participating in a sport, you can relax at our clubhouse and enjoy the scenery from the lovely patio, spend some time in the arts & crafts studio, or have a night out at the ballroom.
Direct Access to Lake Oconee
If you're wondering where Lake Oconee comes into play as far as activities are concerned, residents have direct access to this dazzling body of water. There are unlimited opportunities for boating, fishing, kayaking, and any other water sport you can imagine. Not only that, but there are a number of hiking trails with stunning lake views just for residents to enjoy. Locals particularly love watching the spectacular sunset. Thousands of visitors come to Reynolds Lake Oconee on vacation every year to enjoy the calm waters and you can enjoy it daily from the comfort of your own neighborhood.
Friendly Neighbors
One of the best aspects of living in Del Webb at Lake Oconee is the community is filled with like-minded residents who are, for the most part, reasonably new to the area. This makes it easier to mingle and make new friends because nearly every resident is in the same boat (figuratively speaking). It's a very warm, welcoming community with residents who enjoy planning fun events, inviting friends over for barbecues, and playing sports together.
As the saying goes, you are known by the company you keep, and when you live in Del Webb at Reynolds Lake Oconee, you'll be proud to be surrounded by kind neighbors who will welcome into their lives with open arms.
If you're interested in Del Webb at Lake Oconee and have any questions about the local real estate market, contact expert REALTOR® Brian Quinn today.
Leave a Comment