Reynolds Lake Oconee Real Estate
Whether you're just popping by for the weekend, spending your summers on the lake with your family, or living here year-round, Reynolds Lake Oconee will always feel like home. Formerly known as Reynolds Plantation, this breathtaking waterfront resort community offers glimmering lake waters, world-class golf courses, and an endless potential for creating memories with your family.
Located 90 miles, or about an hour east of Atlanta, Reynolds Lake Oconee real estate offers homeowners the chance to own property at one of the most prestigious, yet warm and welcoming resort communities in the state of Georgia. From beautiful Golf Course Homes, to custom Craftsman luxury Lake Homes, to classic Southern Living cottages, you'll find a wide range of beautiful properties at Reynolds Lake Oconee. Looking out onto your crystal clear lake view, or peering over one of the resort's perfectly manicured golf courses, you'll be privileged with relaxing views at each and every turn.
Browse Communities
Living in Reynolds Lake Oconee Homes For Sale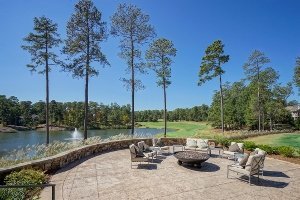 Reynolds Lake Oconee homes for sale provide an endless list of first-class amenities that will make it difficult to ever leave. Starting with beautiful Lake Oconee, which offers 19,000 acres of sparkling lake waters, you'll be able to enjoy swimming, fishing, kayaking, and more. Take the family out for a boat ride, break out your new jet ski, or simply kick back on the dock with a good book. Best of all, you won't need a waterfront property to get out on the lake, as the community offers four full-service marinas.
The community is most famous for its six stunning golf courses designed by some of the most respected architects in golf. With 117 holes of golf only minutes from your doorstep, you'll never get tired of hitting the links. The community also offers nine dining venues, a fitness and tennis club, several swimming pools, and over 40 clubs and social groups that your entire family will love.
Please have a look around and certainly contact Brian Quinn if you have any questions about the current Reynolds Lake Oconee real estate market. I look forward to helping you learn more about life at Reynolds Lake Oconee.
Discover Reynolds Plantation Homes For Sale with Brian Quinn
As you begin exploring Reynolds Lake Oconee real estate opportunities, you'll quickly discover this website is the only search tool you'll ever need. Here's why:
This website is focused only on Reynolds Lake Oconee real estate. This means you won't have to sift through surrounding communities.
This website lists every Reynolds Lake Oconee residential and land listing, regardless of the listing agency. Here you'll find every listing, all in one place.
Our fully customized search tool is the easiest, quickest and most comprehensive you can find.
All listings are updated in real time, so you can see new listings just as they hit the market. You'll be aware of any price changes the moment they happen.
By registering for free, you'll be able to save your favorite properties and sign up for email alerts when new properties hit the market.
Read in-depth information on every Reynolds Lake Oconee community.
You will be connected to Brian Quinn, one of the most successful buyer and seller agents in the history of Reynolds Lake Oconee. As the top real estate agent on Lake Oconee, a top five Coldwell Banker agent in State of Georgia, and ranking in top 1% of all Coldwell Banker agents in the world, it goes without saying that you could not be in better hands as you explore Reynolds Lake Oconee homes for sale. Contact Brian now for unprecendeted knowledge of the local market.