The Landing Lots For Sale
The Landing lots for sale are situated very close to one of Reynolds Lake Oconee's most respected golf courses, a classic par-72 designed by award-winning architect Bob Cupp in 1986 and rejuvenated under his direction in the spring of 2013. In 2008, this course even hosted the 41st PGA Professional National Championship, so it has real pedigree. Whether resting near the gentle slopes of the Landing's greens and fairways, nestled among old-growth hardwoods and mature pines, or situated against the blue waters of Oconee, these sunny parcels of land have a range of potential uses as lakefront or golf property, from ranch-style bungalows to cozy cottages to luxury estates.
Find out more about investing in The Landing property for sale today, or take a peek at our available Reynolds Lake Oconee lots below.
Browse The Landing Property for Sale
No listings were found matching your search criteria.
For instant access to all our listings, as well as cutting-edge search features to help make your experience an enjoyable one, sign up today with Brian Quinn.
Learn About The Landing Lots For Sale
Many of the Landing properties for sale offer walking-distance access to the lake. These lots and home sites at Reynolds Landing belong to a private community of cottages and villas surrounding the Landing Clubhouse. They vary in acreage and typically offer great views of the woods and Lake Oconee from tranquil country roads and quiet cul-de-sacs. Most are well-engineered for an easy build, though sites with more character are also available.
No matter where you decide to build, you'll be close to great fishing opportunities and many amazing local amenities that'll help you to unwind. There's a lot of potential to make one of these Landing lots for sale a site for your dream home. Whether your vision includes a sunlit basement, screened sunroom, 2-car garage, dock, hot tub, or other feature, it's really up to you.
Given how much Reynolds Lake Oconee has to offer its residents, both in terms of natural beauty and modern amenities, Reynolds Landing lots for sale are very popular. This exclusive, gated community represents your chance to take in the splendor of the Georgia countryside while belonging to a serene, family-friendly neighborhood of like-minded people.
Great Amenities Near The Landing Property For Sale
A long heritage as one of Georgia's best golf courses makes the Landing lots for sale extremely attractive to golf enthusiasts, though it's worth noting that social and golf membership at The Club at Reynolds Lake Oconee is subject to separate application and approval. Sometimes sellers make memberships available as well, and this is a great incentive to buy.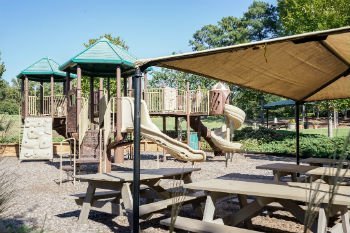 Whether or not you play golf, though, you'll find a number of great local amenities, many of which are accessible by way of miles of walking and biking trails. They include:
Five other great golf courses
Lakeside parks
Swimming pools
Tennis courts
Recreation house
In addition, the Landing property for sale promises surprisingly quick access to essential local retailers on Lake Oconee Parkway, including grocery stores, pharmacies, a medical center, and several great restaurants. The town of Greensboro is nearby, and day trips to Atlanta via I-20 are a very real possibility too.
To arrange to see these sites or to learn more about the Landing lots for sale, contact Brian Quinn now. He's an expert in everything that Reynolds Lake Oconee real estate has to offer.