Salem Plantation on Lake Oconee
Posted by Brian Quinn on Tuesday, April 4th, 2017 at 1:08pm.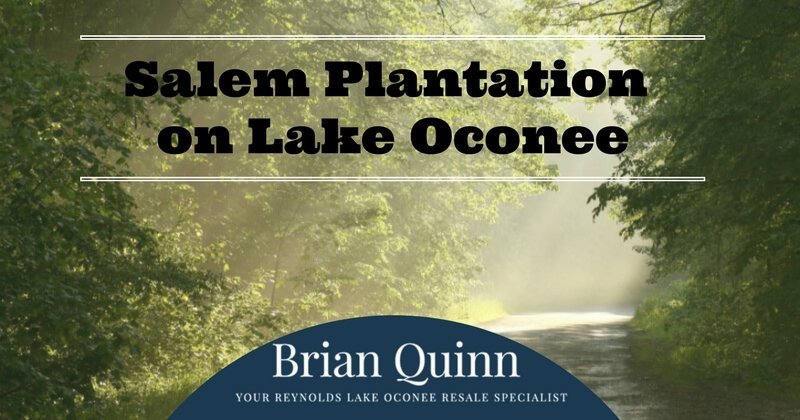 One of the most peaceful and secluded neighborhoods among the many exclusive communities in the Reynolds Lake Oconee area is Salem Plantation on Lake Oconee. Located off Old Salem road—just a couple of minutes by car to the main Reynolds Lake Oconee shopping village—Salem Plantation real estate is a dream come true for anyone looking for a luxury home in a majestic forest and on a crystal clear lake. One thing that makes this private community stand out from the others surrounding the lake is its combination of isolation and close proximity to the top business and natural amenities in the area.
Salem Plantation Real Estate
If you take a trip down the quiet, delightful streets of Plantation Drive, Katherine Lane, and Cosby Circle, you won't be able to ignore the beauty of both the homes and the towering trees that surround them. In fact, you'll probably be hard pressed to decide whether you're more in love with Salem Plantation homes for sale or the environment.
These estate-style lots are generally well over an acre in size and provide residents with numerous opportunities to grow all sorts of plants and make your own lovely yard for the kids to play. Many of the homes exceed 4,000 square feet, so to say the interior floor plans are spacious would be an understatement. These homes were built by some of the top custom home builders in the area, so you know you're getting the highest quality of craftsmanship on both the exterior and interior.
You'll also be glad to know that Salem Plantation homes come with lovely traditional porches that create a relaxing atmosphere as you enjoy your view of the calm lake. It's important to note that every Salem Plantation home has access to Lake Oconee and most are located directly on a small inlet of the lake, meaning you can build your own dock to keep your boat or swim off of. Lakefront living has never looked more serene.
For a tour of Salem Plantation on Lake Oconee and information on available real estate listings in this incredible community, contact your Reynolds Lake Oconee resale specialist Brian Quinn.
Shops & Entertainment Near Salem Plantation
There's a reason Salem Plantation is known as the most convenient neighborhood on Lake Oconee. All you have to do is take a quick drive or walk up Old Salem Road, turn left on Linger Longer Road and you're almost right in the Lake Oconee shopping village.
Do your grocery shopping at Publix Supermarket, buy a little something extra at one of the wine and spirits stores or the local meat market, and browse the latest items at the boutique stores, all within five minutes from your home. Movie theaters and fine dining options are also available in the village, as are a variety of professional services such as banks, dentists, pharmacies, and legal offices.
Old Salem Park
If you're looking for easy access to fantastic natural amenities in addition to the close proximity to shopping, you're in luck if you live in Salem Plantation. Not only do the homes in the neighborhood have direct access to Lake Oconee, but the wonderful campsites provide great shoreline walks that will open up your eyes to even more expansive views of the lake.
The park consists of three 85-acre full-service camping facilities, but local residents can take advantage of the day-use areas. Here is where you'll find picnic areas and pavilions for large groups, boat ramps, fully-equipped playgrounds for the kids, and a beach for everyone to enjoy!
Leave a Comment