Four Reasons Why Ritz-Carlton Reynolds, Lake Oconee is Great for the Whole Family
Posted by Brian Quinn on Monday, February 27th, 2017 at 1:38pm.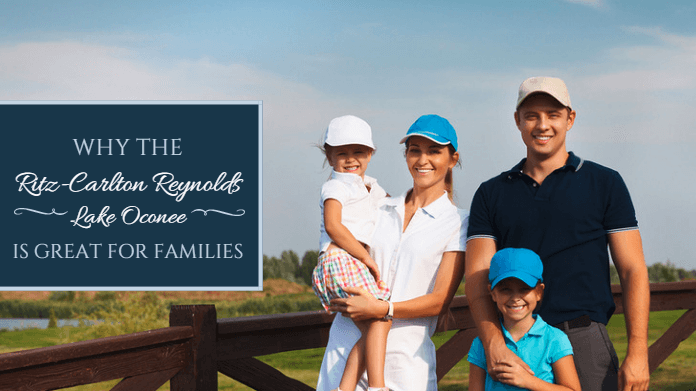 The Ritz-Carlton hotel chain is best known for its upscale rooms, its elegant style, and its luxurious facilities; perfect for big events and corporate gatherings. In fact, it's just generally known for being among the best when it comes to the hotel industry. However, it's not quite as well known for being the type of place to bring the kids and that's where Ritz-Carlton Reynolds, Lake Oconee stands out.
Residents and visitors of Reynolds Lake Oconee know it's perfect for all ages. Whether you want to take advantage of the beautiful lake, the full-service marinas, the world-class golf courses, the trails, the tennis, the swimming, or the kids recreation programs, there's something for everyone—and that's why it's a great place to raise a family.
But of all the amenities, the clubhouses, the dining options, and the other ways to spend your day, the Ritz-Carlton Reynolds, Lake Oconee is among the most popular venues for locals too. Those living in Reynolds Lake Oconee homes say it's one of the more casual options for a quick bite or drink and the resort has several amenities that cater specifically to kids.
1. Ritz-Carlton Reynolds, Lake Oconee Kids Programs
If you're looking to spend a day golfing or relaxing at the spa and you're not sure what to do with the kids, the Ritz actually offers its own kids programs that run seven days a week. Full-day and half-day camps are offered for children ages 5 to 12 and include a variety of outdoor activities, such as scavenger hunts, hiking, fishing, and making bird feeders. The camp counsellors are fun, professional and have received rave reviews!
For adults wanting some time to themselves at night, the Ritz also offers evening activities for kids on Fridays and Saturdays (6 p.m. to 9 p.m.). Each night usually has its own theme and, based on that theme, your kids will be treated to an evening of games, arts and crafts, and many other types of fun.
2. Even More Ways to Entertain the Kids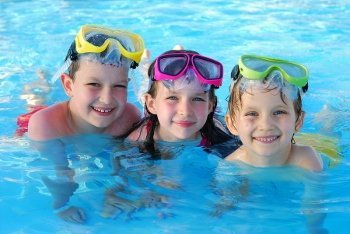 While the day camps are great, your kids don't have to be separated from you to enjoy Ritz-Carlton Reynolds, Lake Oconee. Several of the resort's amenities have children's themes worked into them, without taking away from the experience for adults.
The pool area has a separate children's pool in the shade—a perfect way for parents to escape from the sun and relax while supervising their children at the same time. If you prefer to spend your days by the lake, there is a playground for kids as well as snorkeling equipment, table tennis, and a basketball hoop that can be adjusted for smaller children. Of course, if you just want to relax and let your kids do all the running around, there are also plenty of deck chairs and hammocks.
Inside the resort, certain rooms have the option to include a customized tee pee, crafting kits, books on the tribes found along Lake Oconee, and several camping supplies to give children a camping experience. There is also a book club available for kids and a Very Important Kids (VIK) registration desk, where children can sign the guest book and receive a scavenger hunt.
3. Casual Dining for All Ages
Perhaps the best family-friendly amenity at Ritz-Carlton Reynolds, Lake Oconee is the food. With multiple restaurants ranging from elegant to casual and menus for all ages, there is truly something for everyone (hotel guests and local residents alike).
The Coffee Shop is exactly what it sounds like. This small, but inviting cafe has an assortment of pastries and drinks for anyone looking for something to get them going in the morning or afternoon.
Gaby's By The Lake is the casual, poolside dining option, perfect for families or anyone who just doesn't feel like putting on a shirt to eat. There are pizzas, sandwiches, salads, and a kids' menu, plus there's an incredible view of the lake right in front of your table.
Georgia's Bistro is another fairly casual restaurant, although unlike Gaby's By The Lake, you will need to at least wear a shirt and shoes to be served. The menu features local, contemporary cuisine with a breakfast buffet in the mornings.
The Lobby Lounge is a relaxed bar with a peaceful lakeside view, a pool table, and a wide selection of drinks and appetizers open until midnight daily. Weekends also include live music!
If you're craving a well-prepared steak or lobster, Linger Longer Steakhouse provides a great selection of meals and a perfect ambience for a more upscale dining experience. But despite the elegant menu, this restaurant still maintains an inviting atmosphere for all hotel guests and local residents, and casual attire is welcome.
4. Super Laid-Back Atmosphere
You already know the Ritz-Carlton is not your average hotel chain, and by now you should have figured out that Ritz-Carlton Reynolds, Lake Oconee is not your average Ritz. In addition to the food options and children's activities, a general stroll around the hotel premises gives you a laid-back, easy-going vibe that will leave you pleasantly surprised.
Guests of all types have said they feel very comfortable at this Ritz and those who are lucky enough to own Reynolds Lake Oconee real estate consider it among their favorite hangouts. Children of those living in one of the manycan use the playground and all the other kid-friendly amenities, while adults love relaxing with a cup of coffee in the lounge chairs or eating a stress-free meal at Gaby's By The Lake.
With so many recreation and entertainment options in the area, Ritz-Carlton Reynolds, Lake Oconee seems to have created an environment for all ages and all types of guests. With plenty of amenities for the entire family, it's no wonder that even the locals are flocking to this surprisingly casual resort!
If you want to explore the gorgeous homes for sale near Ritz-Carlton Reynolds, Lake Oconee, contact Brian Quinn today! Brian is extremely knowledgeable about Reynolds Lake Oconee real estate and can help you find a home that suits your needs.
Leave a Comment